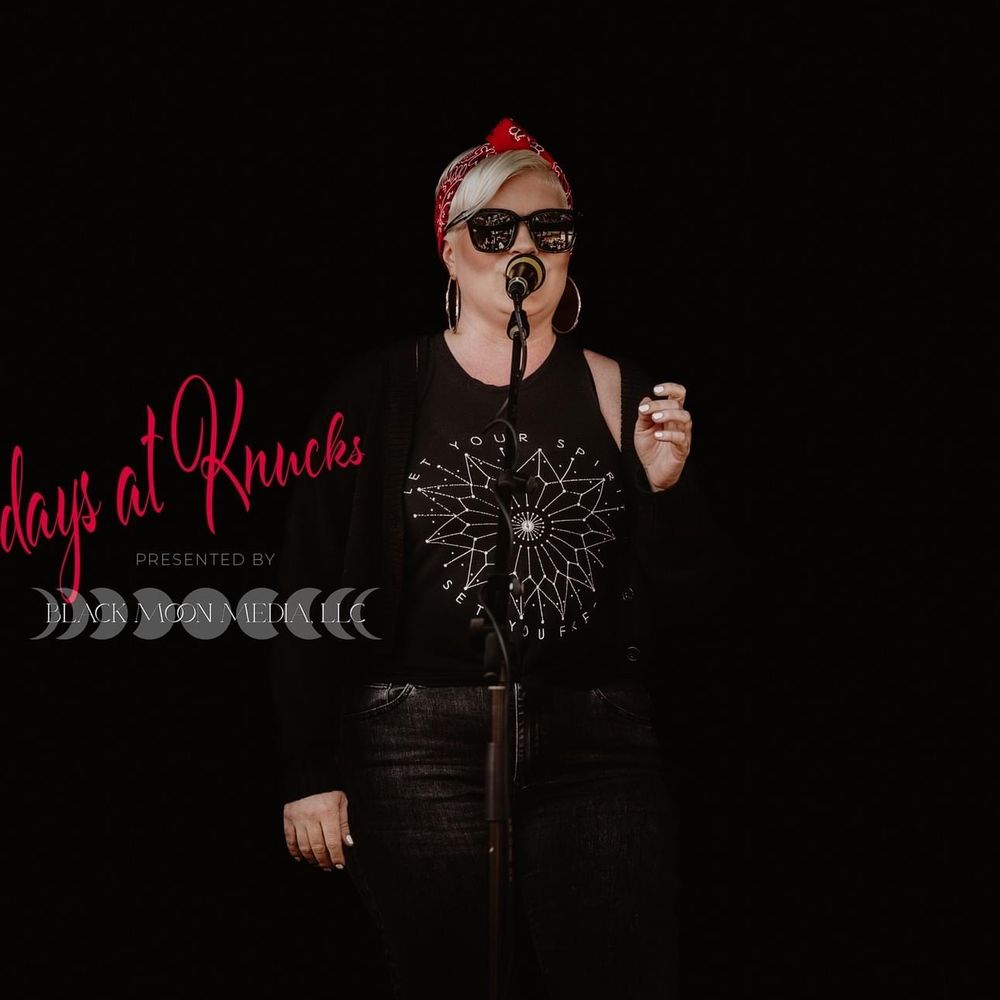 Brigett Owens
Vocals
Brigett's first performance was at age 19 in blues band with a focus on Chicago blues greats and modern influences of Kenny Wayne Shepard and Jonny Lang. She then joined Blues Trip, a big show band, known for rocking contemporary blues and classic rock dance anthems that shook regional dance floors at fairs, casinos, clubs and private parties. Fun times! At 26, while living in Prague, Czech Republic she formed a band with super talented, misfit engineering students who had a softer, jazz/singer songwriter style. And so began her love of Etta James. One Sunday evening in early spring of 2019, after many long, arduous trips around the sun (resulting in great songwriting material!), she happened to run into a kindred spirit at B.B.'s Lawnside BBQ: Russ KidMan Shenke. They chatted, jammed a few times and the universe conspired to bring them together with some of the most talented, funny and open-hearted musicians to create something new: our Bandoliers.  
Photo courtesy of Black Moon Media LLC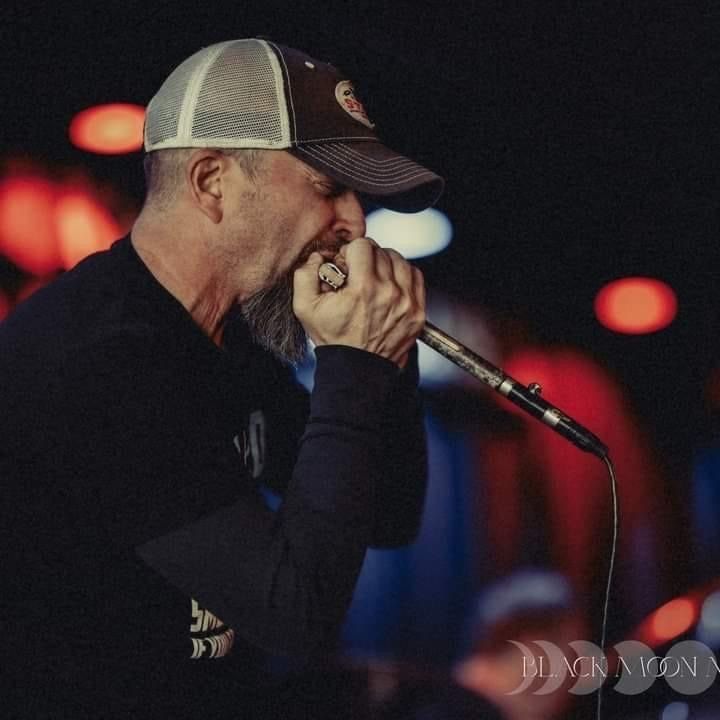 "KIDMAN" Russ Schenke
Harmonica, Vocals
KidMan spent years playing bass in Blues, Roots, Americana, and Rock bands in Chicago, including the Bald Willies and the Juice Dogs. After moving to Kansas City, he focused for over a decade on blues harmonica, learning tone, style and skill from Lee McBee, Jimmie Meade and other KC harmonica greats. 
From Brigett: 
"Russ is such an amazing harmonica player and brings out the deep sense of the moodiness and movement in every song he plays. He's also a damn good bass player and I've seen video footage of him rocking Chicago stages to a packed house of adoring, dancing fools!"
Photo courtesy of Black Moon Media LLC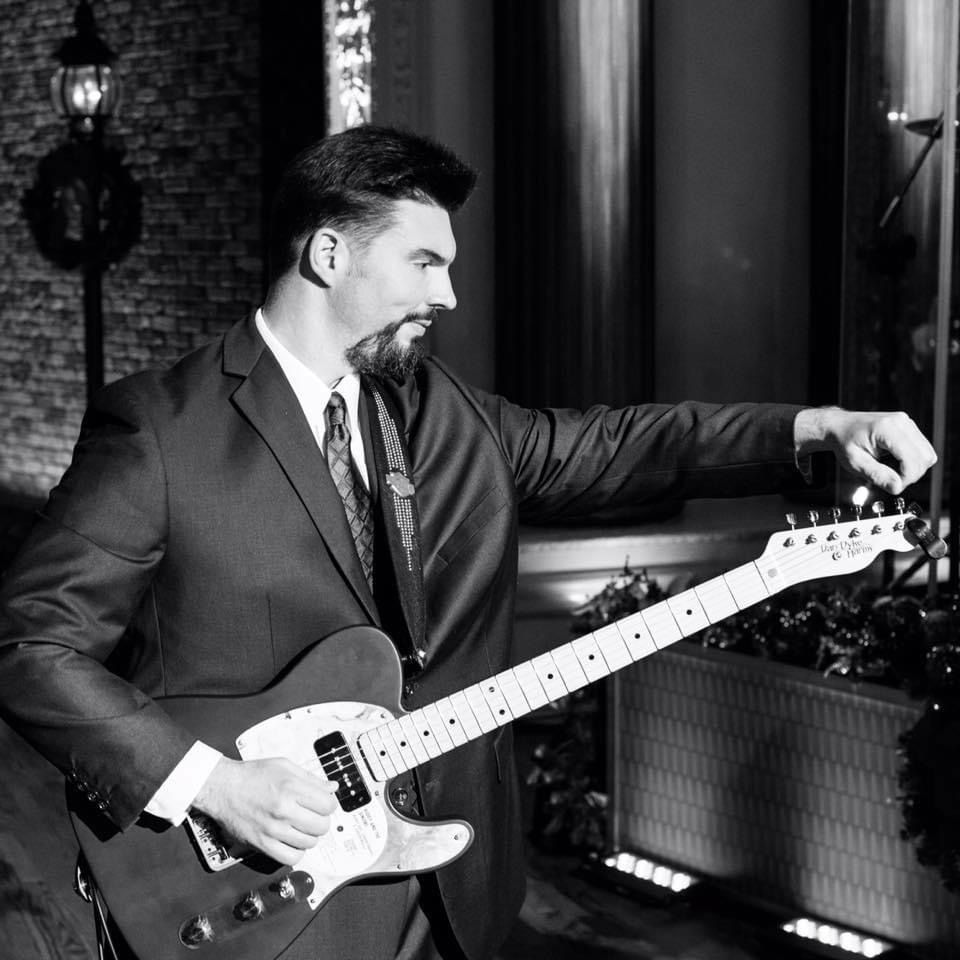 Ben Van Dyke
Guitar
Ben has logged 12 years and hundreds of thousands of miles on the road. He made his professional musical debut playing trombone with his father, Leroy Van Dyke. Three years later, at 15, he took up guitar, and an intense affinity for traditional blues. While attending college as a trombone performance major, he began playing guitar and bass with numerous bands in the Midwest, and explored the Kansas City blues scene as a member of King Alex and the Untouchables. Since 2005, Ben has played lead guitar for his father and myriad classic country music artists as part of the Country Gold Tour, yet maintains a steady touring and recording schedule in regional bands of various styles.  
About the band
Brigett and Her Bandoliers is a dynamic ensemble that effortlessly weaves together soulful storytelling and energetic grooves. Blending elements of blues, roots, rock, and Americana, the band creates a genre-defying sound that's both familiar and innovative. From the bluesy ballads of the Mississippi Delta to guitar-shredding anthems straight out of the juke joints of Chicago, their diverse repertoire has something for every music lover. Experience the raw energy and undeniable charisma of this Kansas City-based blues band as they bring to life the timeless melodies and heart-wrenching lyrics that define the genre. Led by a powerhouse of talented musicians, their commanding stage presence and unmatched musical chemistry will have you swaying, singing along, and experiencing the blues like never before. Whether you're a devoted blues enthusiast or just dipping your toes into the genre, Brigett and Her Bandoliers guarantee a night of soul-stirring tunes that transcend time and connect us all to stories of lovin', losin' and whiskey drinkin'. 
Brigett Owens, vocals 
Russ Schenke, harmonica and vocals 
Ben Van Dyke, guitar 
Ron Still, drums 
Derek Tucker, bass